With me forgetting how long it has been since I posted. I cant believe it's been two weeks, or there abouts. We haven't really been doing anything except in the last 8 days, we have sat 5....can't make any money that way. We finally got a load on Monday that delivered on Tuesday and then sat until Thursday and picked up a load that delivered today. Now we are waiting again. If we don't get a load, maybe I can talk my dear darling husband in to going to Old Sturbridge Village, or maybe, if I'm feeling really lucky, to WEBS. That's about 50 miles away, but I might also try to find a way to go to Boston, which is only 40 some miles away. We have been to Sturbridge before, but it's a different season than the last time and they do have craftspeople that do all kinds of fibery things that I would thoroughly enjoy seeing.

The weather in New England, at least this part of it, is beautiful. It's sunny and warm, but not sweltering hot and cool at night, which makes for good sleeping weather. I don't notice that a lot of the leaves are turning yet, but you can definitely tell that autumn is not far away, and close on the heels of fall will be winter.

I finally finished the pair of socks that I was knitting for DS, but they don't fit. The measurements that I took oh so many months ago are wrong. I either measured the heel turn dimension wrong, knit it too small, or something, and he can barely get the socks on and they are extremely snug. They will be given to my younger niece, even though they are a dark grey with the tweed flecks in them. She can wear them with her cowboy boots or winter boots and no one will see that she's not wearing "girly" socks. Now I have to go through the stash and see what else I have for the DS. I will knit him up another pair of socks, just plain, out of something that he will wear. He really wants a pair and I feel bad that the ones I knitted don't fit.

I also am still knitting on my sister's tank and the "I Love Guernsey" socks from the Six Socks KAL. I'm about 1/3 done with the tank and have turned the heel on the first of the socks and have the cuff done for the second...just getting ready to knit the heel flap and turn the heel on it. Hopefully I will have these done in the next little while as I am going to give them to my sister for her birthday. I think that I am going to modify them a bit and only put 1 repeat of the heart motif on the top of the foot and make the rest of the foot in stockinette stitch. That would be more comfortable inside of her clogs, I think, but still have the pretty stuff showing. I am using a subtly variegated yarn or not even variegated just hand painted in subtle variations of the same color and it's showing the patterning very well and looks pretty.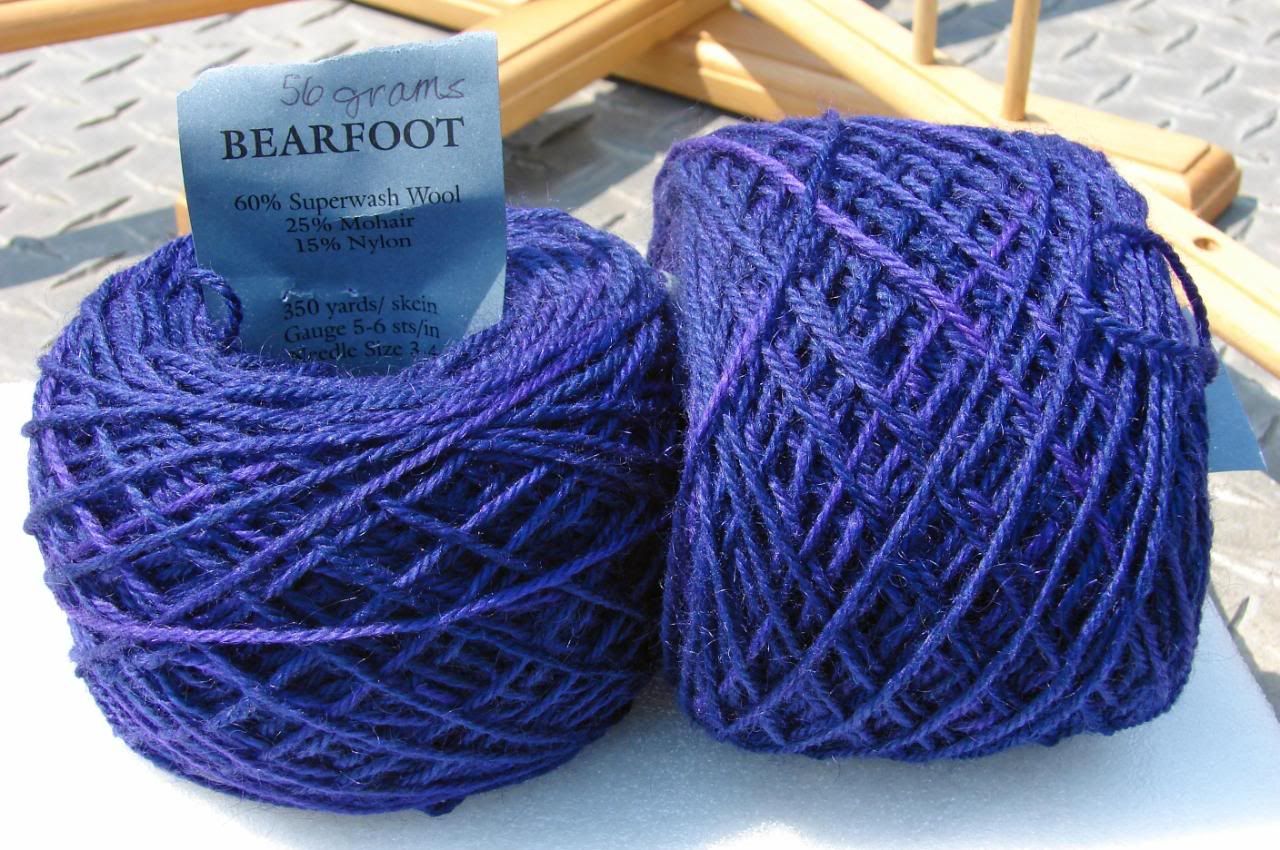 I am getting ready to cast on for a pair of socks for my mom. She was going to get the ILG socks, but the yarn I have for her just wasn't working....too fuzzy. I couldn't see the pattern, and what's the point of doing a pattern if you can't see it?

Now I am on a hunt for a special yarn for my secret pal. She is a die hard fan of a certain ball team and she wants yarn in those colors....lets see if I can find it. There are a lot of yarns that have almost the right color, but almost just sometimes doesn't get it. I will either find the right yarn, or I will come up with some other things for her.

Well we got a choice of two loads...we are going to Maine to pick one of them up and we will be taking it to PA, the other went to Florida where no freight comes out of. Not a great load, but it is getting us moving and not sitting, which makes DH happy. I guess that's better than having him be upset all weekend because we aren't moving and then not wanting to do anything. :-) At least we know that our company loads out of the area that we are delivering to, so we shouldn't have a real hard time getting a load out of there.

Maybe the leaves will be turning and I'll be able to get some fall pictures. Then I could post said pictures on my blog and then I would actually have some travelogue pictures. Ooohhh, now that would be something new. Or wait, maybe I will get some ocean pictures. I don't think that I have actually ever seen the ocean in Maine. We have been to Maine once, but we weren't near the ocean, so I couldn't get any ocean pictures. Maybe this time, DH will actually stop somewhere where we can get some Maine Lobster.

I guess after the weekend, I will have another post and will answer some of the questions that I posted. Have a great weekend....mine looks crappy so far.