Last night we got invited to the "Great Frederick Fair". We went with my sister and brother-in-law and some of their friends. There were 8 adults and 6 children...the youngest was 2 and the oldest of the children is 12. Going to the fair, at least for kids, means riding the rides. I'm mean though. When we go to the fair, we actually go to see the exhibits. The only problem with going to see the exhibits at the fair on the last weekend, is that a lot of the exhibits have gone away. We went to the sheep barn, cuz you know, knitter = sheep or at least their fiber. The sheep that were left were mostly meat or dual purpose breeds and there wasn't a lot of documentation to tell you what you were looking at. The best things that we saw in the sheep barn was the icelandic sheep and the angora and cashmere goats. There were also a pair of cashgora goats that were awfully cute. But, of course, I don't have pictures of any of that, because I left my camera at home.

We have been at home since Tuesday morning. We made the choice to come home so that some preventative maintenance could be done to the truck. We were going to leave on Wednesday, or Thursday at the latest, and here we still sit. DH was done with the truck on Thursday, but there weren't any loads around here, at least none that weigh less than 44k lbs. We'll get something on Monday, not a problem, except the no money coming in thing, but there is also none going out, so it's a wash.


I posted that I had finished the socks for DS. I finally got some pictures of them on my niece's feet, since they ended going to her. She's younger than the DS, and therefore, her feet are smaller for the misjudged size.
She was also a real booger about letting me take the pictures of her feet. I ended up threatening to take them back and give them to someone who would cooperate. Her mother convinced her that she need to let me take the pictures and once that happened, she was fine. but it was a long road to that point.I think I will adopt the Elizabeth Zimmerman school of thought. Don't knit for anyone in particular, find someone that the garment fits. That works for me and makes it easier when I screw up. I think the color is closer to the pair on the left, but you can see the flecks of color on the pair on the left.


I have been working on the "I love Gansey" socks for the Six socks KAL. I have turned the heels on both and am working down the foot. I am knitting them for my sister for her birthday tomorrow, but I won't be done with them tomorrow, but she knows that and knows that she'll get them when she gets them, kind of like the tank I'm knitting for her. I'm knitting them each separately, magic loop, and knitting a little on one and then a little on the other. It's working out pretty well.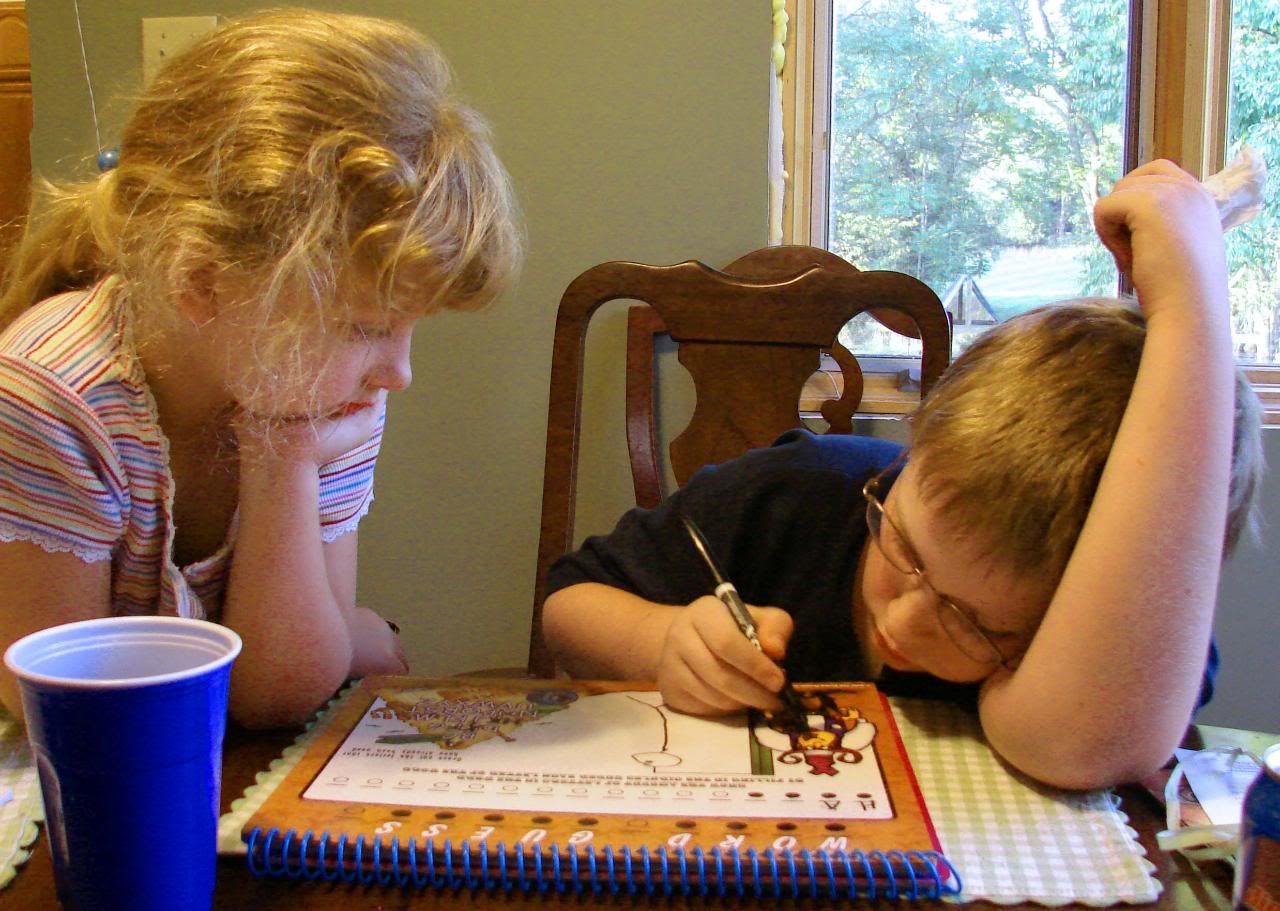 Here is a picture of the niece and the DS...they are working on one of those word fill puzzles that is different every time you do it because each person will use different verbs, nouns, adverbs and adjectives. I caught a couple of the niece making faces at me, but I decided not to show those. She would be mortally embarrassed and would never let me take another picture of her again.

I was so excited the other week when I caught a sneak up at the Loopy Ewe. I actually got in in time to get some of the patterns that I wanted from Wendy of Wendy Knits and some Wollmeise yarn....Let me just say about the yarn, GOOD GOLLY, MOLLY is it nice. I haven't knit with it yet, but it is absolutely gorgeous and kind of tightly spun and soft and I can't wait to start a pair of socks with it. I was able to boot the DH off the computer long enough for the sneakup and then I gave it back to him rather happy.

We are on the way to California. I finally found us a load after we went home and DH did some preventative maintenance on the truck. I found a decently paying load hauling some Hummers for the Marine Corps. After I called our dispatcher about booking it for us, he called about an hour later offering us a load going to NH for less than a dollar a mile and then you have to deduct the empty miles and the tolls from that, and it was pitiful. When DH turned that down and asked about the load going to CA, the dispatcher asked if we still wanted it. Well Hello, I did call you and ask you to book it. I found out all the particulars and knew what it was paying and how heavy it was and everything, of course we still want it. So we are beat feeting for San Diego, Camp Pendleton to be exact. Looks like we might be trying to find something to occupy us in San Diego for the weekend, so if anyone has any ideas or suggestions, please, please leave me a comment.

A really weird thing happened this morning. We had parked at a truck stop for the night last night and this morning as I was walking the dog, this old man got out of his truck and came over and asked me if we were hauling those hummers. When I answered yes, he proceeded to attack me for the government's policy on the war in Iraq. Now I may not agree with everything that the administration is doing about this war, but by golly, I support the troops that end up doing the fighting and if getting them better equipped and better armored vehicles to use in their duties is going to help, we are going to help if we can. Granted we are getting paid to do this, but that's only fair for us to be able to make a living. Besides that, DH was in the Marine Corps when he was a much younger man, and he kind of likes the military load.


As requested by Shelby for SP11, I am posting a picture of my stash. Now this is really the stash that I have on the truck, although if you go and look at my Ravelry stash you would see tha I actually have stash stashed in several places in multiple states, but since I can't get to all of it, I can't post all of it. Some of it is in Colorado, some of it is in West Virginia so I don't have it all with me. It tends to keep DH from being so crazy about the amount of yarn that I seem to have collected in the last 8 or 9 months.
The container fits under our bed in the truck and I can pull it out if I have to, to get to all that yarny goodness.

Next time I post, I will post pictures of San Diego and whatever it is that we decide to do there and some pictures of the Wollmeise (squeeee).