I got to wind up some of the yarn that I picked up when we went home this last time. We were in San Antonio the other night and we had hooked up to IdleAire, and while we were watching a movie, DH helped me wind yarn inside the truck.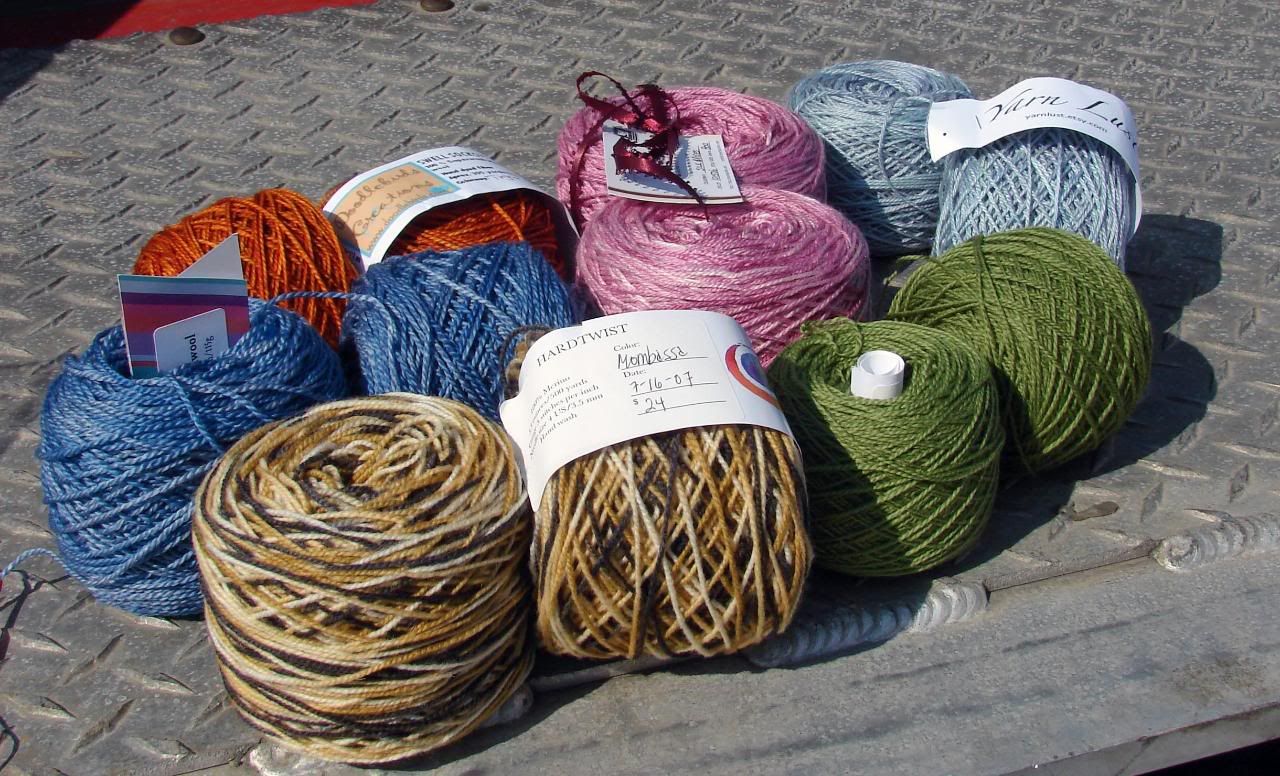 That entails putting the winder on the pull out table and then he has to hold the swift on top of the box lid while I wind. We did seven or eight skeins and then decided that we could do the rest another time. What you are seeing there is some Lisa Souza Mombassa, some Louet Gems in Fern Green, some Yarn Lust Sinful Signature in sloth which is a really pretty mist grey and lavendar. The pink is some Zen Yarn Garden Wool and silk in Silk Roses colorway. The rusty color is Doodlebirds creations in Tiger lily and finally the darker blue is Fleece Artist Sea Wool. This is only about 1/3 to 1/2 of what I got and I will put the pictures of the other stuff up separately.
There is some more Louet Gems Sport...the red one is the large
100 Gram skein in Cherry Red and the brown ones are two 50 gram skeins in Sandalwood. I have decided that I really like this yarn for those socks that need to have a solid color yarn for stitch definition. I works up nicely and the colors are very nice as well.
The two here, the teal and the pink and brown are the club shipements for Mama E's C*Eye*ber Fiber Crazy Eights
Sock Club shipments for June and July.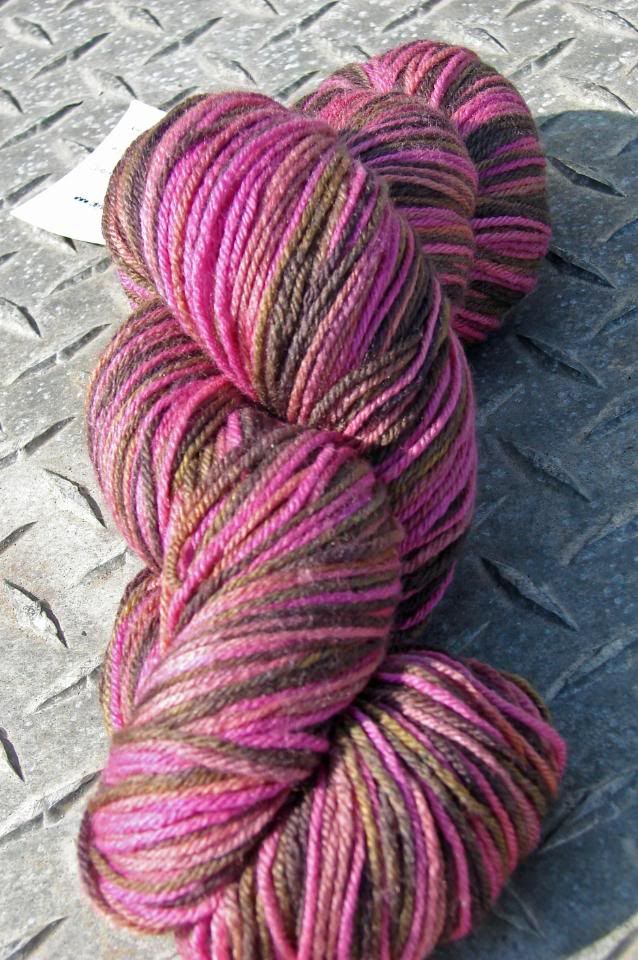 The top one is called Sea Sick and it has coordinating heel and toe teal with the multi body and the bottom one is a Merino Silk yarn that is called Chocolate Raspberry. As I told Mama E, neither of these are colors that I think that I would order, but that's one of the reasons that I buy sock clubs...they get me out of my comfortable "Martha" colors and lets me try things I wouldn't on my own.

A lot of the yarn that I purchase is a result of enabling by Lime n' Violet's podcast. They always spread the
goodness around and let everyone know about the things that they have found from one podcast to the next. This next yarn, which my camera doesn't do justice to, was one of those. They were talking about Yarn Lust one day and talking about her yarn based on the seven deadly sins. I, of course had to go and check it out and found Sloth. This yarn is gorgeous. It's kind of a misty grey with overtones of lavendar and is sooo soft. My picture makes it look either blue or grey, but that just isn't what it is. It's shiny and purply and grey and oh so pretty. This one was in the picture of the wound yarns, but it was something that I wanted to share it by itself. I broke the 100 gram skein into two parts so that I could make socks with it, but it does come in one large hank.

Three other yarns found because of Lime n Violet are from
Doodlebird Creations,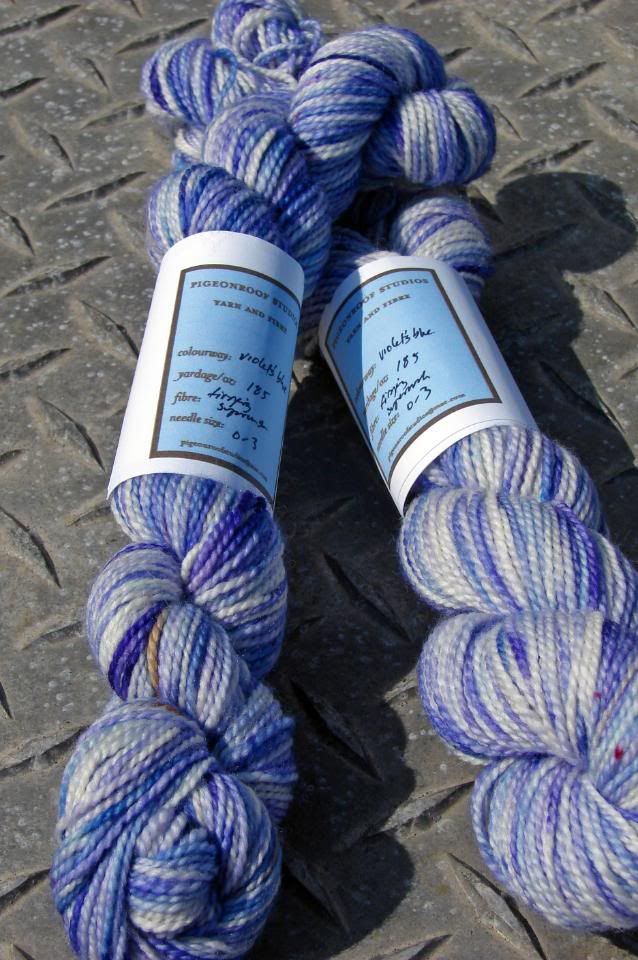 Posh Yarns, and Pigeonroof Studios. The orangey one is from Doodlebirds Creations and is called Tiger Lily. It's a really nice yarn that comes from a friend of Lime n' Violet and was in the studio. She provides really good customer service and the items come well packaged.

The middle yarn is from Posh Yarns and the colorway is called Sweet Pea. It is a British company that is a cashmere/silk yarn that is amazing. The colors are pink and lavendar and are pretty close to what the picture shows. The way that they package their stuff to send to you is great. "They" say that presentation is everything, and their presentation is very good.

Finally, Pigeonroof Studios is a nice yarn and kind of reminds me of Koigu. The colors are very vibrant and the yarn I got from them is called Violet's Blue. I will do some socks out of it and I will probably do something like Monkey socks out of them.

Finally
I got some sock blockers from Chappy's Fiber Arts. I chose the knitting needles in the yarn ball and they are nice. I know that dh could have made me some, except that he told me he needed a pattern to be able to make some, so I bought some. They are made out of oak and finished very nicely.

Dh decided that I needed a picture of my on truck stash,
so here it is. It isn't a great picture of me, but it does show the amount of yarn that I have on the truck. It fits under the bunk in our truck and I have the ability to shop the stash when I am starting to knit a pair of socks. With the additions of the yarn pictured above, I now have a bunch of solid yarns as well as several variegated yarns for different patterns that would work well for that. I do have more yarn than that, but it is either in our container at my sister's house or stored at my folk's house. I don't have lots of yarn, at least not like this lady. Her stash is HUGE. I could happily shop her stash for many years and knit up everything I want to knit. Can you imagine trying to load everything into Ravelry?

I have been working on the I Love Gansey socks and the plain Joe socks for my ds and the tank for my sister. The gansey socks are going to be for my sister for her birthday and I can say that because she doesn't read my blog. I love this pattern. It's difficult enough that it keeps your attention, but not so hard that you can't learn the pattern and know what comes up next. I'm into the ribbing on the socks for ds and it's hard to work on them cuz it's just boring. The yarn is nice, but the plainness of the pattern is boring. I need to just bite the bullet and finish them so I can cast on the pair for my mom. I have that blue Mountain Colors Bearfoot that is fuzzy and gorgeous and will make a wonderful pair of socks for her. I just need to impress upon her that she really needs to hand wash them. I'll even give her a package of the wool wash so they don't shrink and/or felt.

I hope that everyone is having a nice holiday weekend and has tomorrow off. We don't, although we will be at my sisters for at least part of tomorrow, even though she isn't there and is on vacation. It will be nice to sleep in a real bed and then take a shower and go through the mail that we have...probably some more yarn and some books, at the least.