in Nashville, TN. Now normally that wouldn't be a bad thing, but I can't even get to a yarn shop. I did get to the post office today and mailed the final package for my SP10 partner and the packages for my Tea Swap III partner. I have enjoyed both of the experiences, but I think that I will wait for a bit to do another one, unless it's a dishcloth swap, or something of that nature. I loved getting the ideas and the packages together for them, but because of the nature of our business, finding a post office is not an easy thing. Then my DH gets cranky because of the packages on the truck....you know men....and he told me I can't do another one until next year. He's mistaken, LOL.
We sat last weekend on the border of Missouri and Kentucky, in Charleston, MO. In the
truckstop there was this cute little pond that actually had a pair of ducks on it.
I don't know if they hav
e a nest or not, because I didn't want to disturb them too much, but they wandered from one side of the pond to the
other and only really got upset if we took the dog outside on
the grassy area that was their
lawn.
If you look behind them you can see the highway behind them. That's where they live, right next to the highway in the land that is the
truckstop. The weather was beautiful and the boy and the dog got to go out and play...s
hould have gotten some pictures, but I didn't.
If you have children, you are ever hopeful that they will be able to help you when you really need them to. The other night when we were sitting somewhere, I asked the ds to help me
wind some yarn. I needed him to act as the yarn swift and hold the yarn for me while I wound
it on the cake...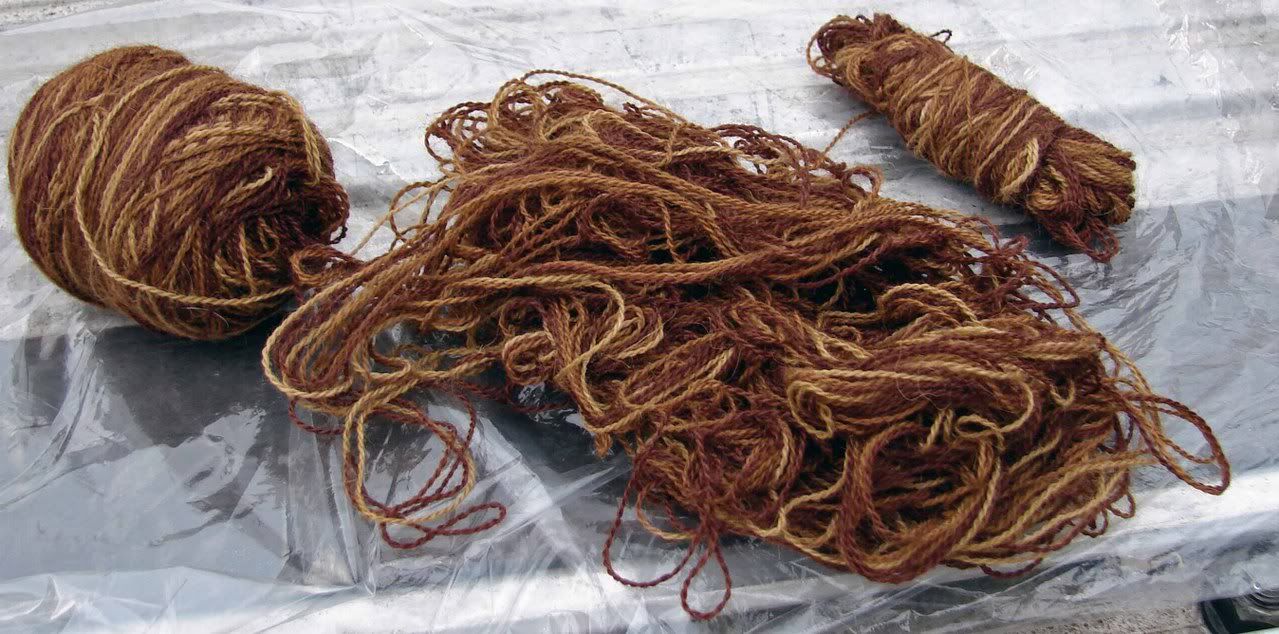 This is what we ended up
with...and the picture shows you after I have spent several hours trying to unravel the mess and get back my whole skein of yarn. This is what we should have ended up with: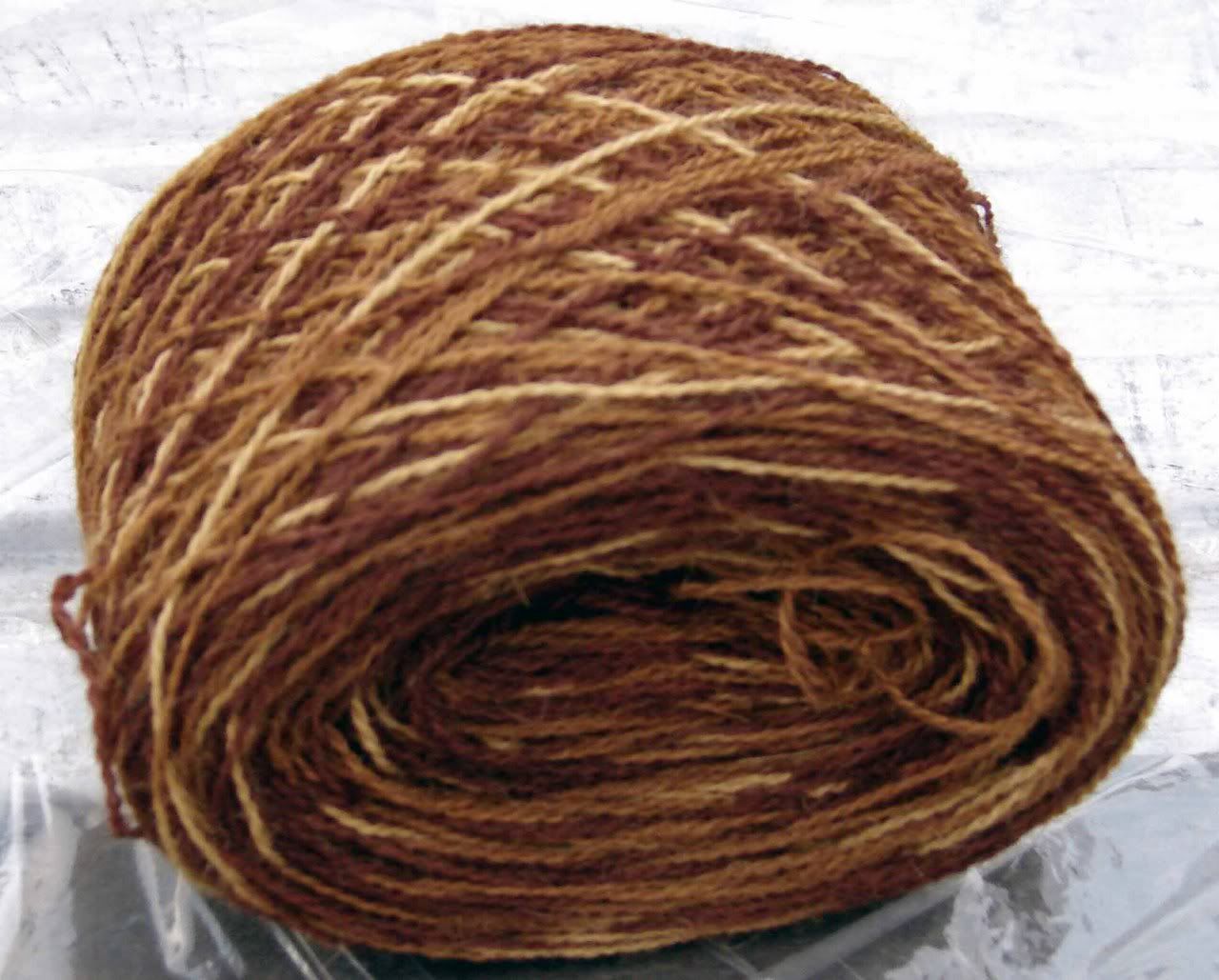 I didnt realize until too late that maybe this wasn't a job for an 11 year old. He's too fidgity and while he does take direction well, this might just be beyond him. Oh and this cake...husband acted as my swift, as he did for the following yarny goodness.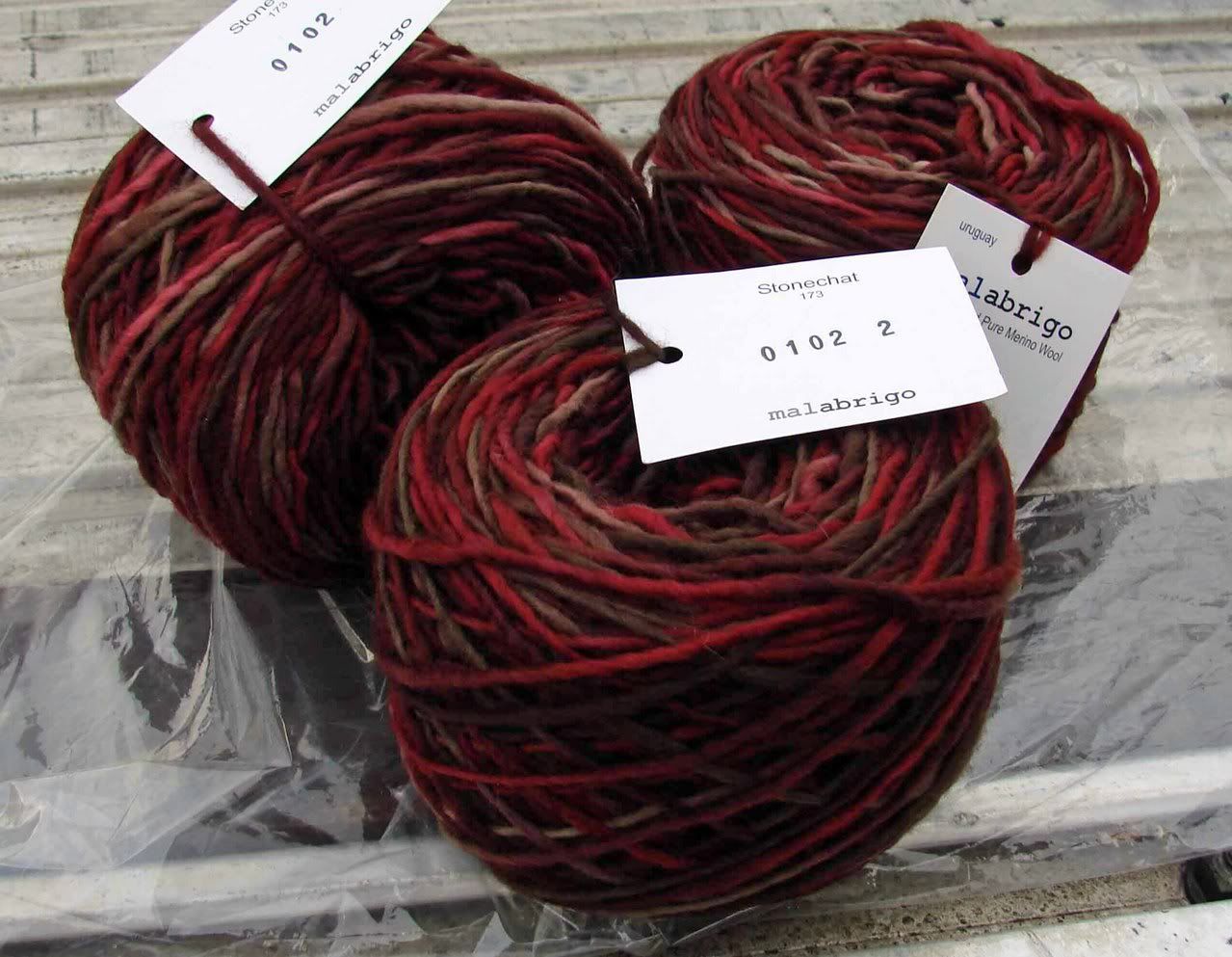 This is Mala
brigo...it
is hand spun
in Uruguay. It is some of the softest yarn (well, natural fiber yarn) on the planet. I am lucky enough to have 3 skeins of it in these absolutely wonderful reds and browns. The color is called Stonechat and it is some of the nicest yarn I have. I think that I am going to make a felted bag out of it, but that almost seems like a sacrilege for as soft as it is. I still think that i will because it will make a beautiful bag. I can alway get more if I want to.

I also got some Shaeffer Anne...this is another one of those beautiful sock y
arn
s that has wonderful colorways.
I kept looking at
this one and thinking that it was all greens and purples and stuff, but when I had hubby help me wind it th
e other night, I realized that it was all different shades of green and teal. It is loverly and will make someone some nice socks. The colors that are showing up here are not even what I took on my camera, but they show you the gradations...just think more green and less blue.

I just realized something. I don't have much for knitting progress to show you,
because I have been untangling yarn and spending way too much time online looking at knitting and knitting related things than I have been knitting. I need to stop that. It becomes dangerous. I was reading a couple of blogs the other day, and while doing so, you know, I looked at some of their FO's and found this sweater. I showed it to hubby and he said that I should knit it up. I started
looking at yarn and found out that Francis Patrick not only has gorgeous sock and shawl yarn, but they do a bulky yarn and will do special orders in the colorway of my choice. Hubby said to order it and work on this sweater so that I will have a gorgeous sweater to wear this fall and can practice for making this sweater, which I bought the yarn for at Stitches
West.

We finally got a load and will be going to Las Vegas for the weekend. We are picking up a load that delivers outside of Las Vegas, and this weekend is the Las Vegas Trucking show, so we may get to go. I will have to have a small project to carry with me for those down times of waiting while hubby talks. He does like to do that.

Oh, and lest I forget...I promised Enid,
who left a comment about the wedding we went to a couple of weeks ago, that I would post a picture of our youngest son. I had posted several of the older boys(men) and there weren't any of ds.

He isn't here by himself, but here is all of he boys, and I can still call them that cuz I am the evil wicked stepmother. The youngest thinks his older brothers are pretty "cool".


Here is one of hubby too...he actually smiled for me, although it did take me three shots to actually get a smile out of him. For some reason he thinks that he can't smile for a picture. My mother has to threaten him with bodily harm to get him to smile.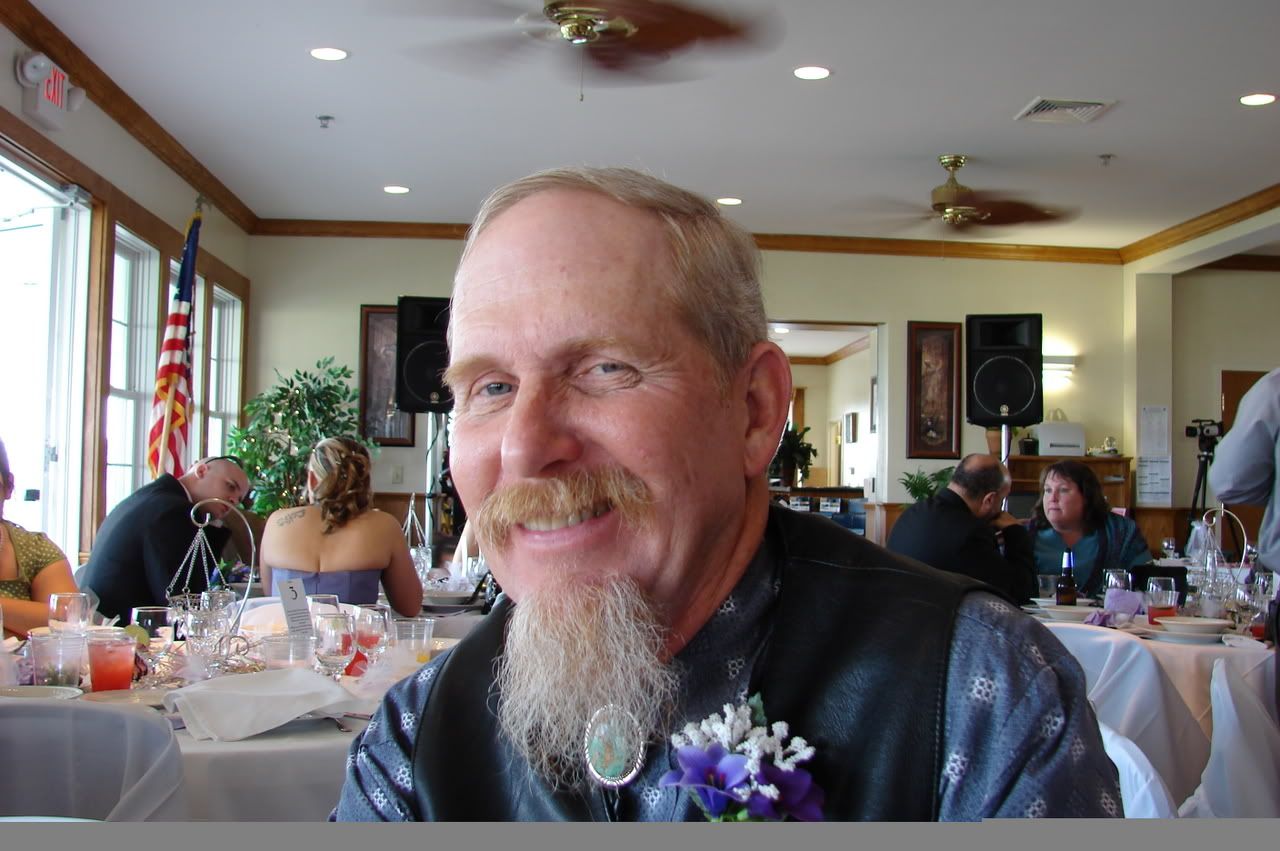 I hope that everyone is having a great week and I will post again later...Ciao