The last time I posted, I was getting ready to go to my stepson's wedding. In the interim, I had written a post with a terrible rant about the company that we are leased to and how they were jerking us around and NOT getting us home. But we made it home and got to the wedding and all, so I decided not to post that post. It wasn't very nice and I was a little (to say the least) ticked and you just don't need to hear that....so, here's a different post.

I have some really wonderful pictures of sunsets from our trip from Seattle to Laredo. We went across Utah and I took a picture or two in my side mirror. The colors were actually much better than the picture, but it still is a kind of cool picture taken behind us.


We then went into Colorado and I was going to post some of the really cool scenery in Utah, but I ended up with a headache and went to lie down and missed almost the whole of the really neat stuff down near Canyonlands and Arches, so needless to say, I don't have any pictures of the neat stuff, but here is what we saw as we crossed into Colorado.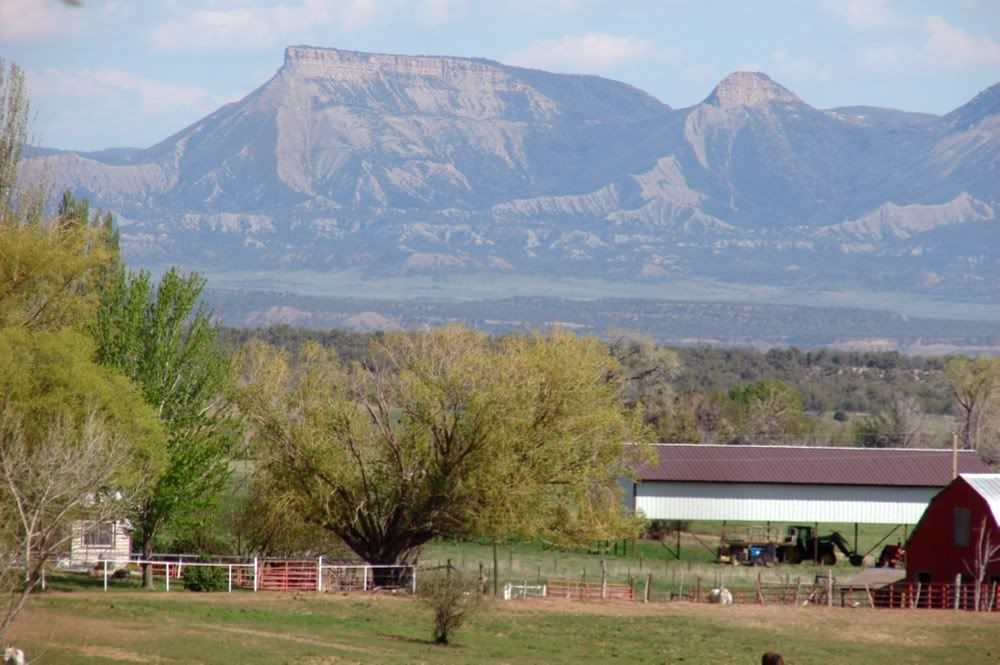 I lived on top of that mesa when I was in jr. high school. My father worked in Mesa Verde National Park, and we had to go up the front of that mesa on a road they called "the cut". It was carved out of the side of the mountains and you felt like you were on the edge for the whole of that stretch.
It never ceases to amaze me how much I love the mountains. I grew up in Colorado Springs at the foot of Pikes Peak and the mountains just kind of call out to me that this is home and where I need to be.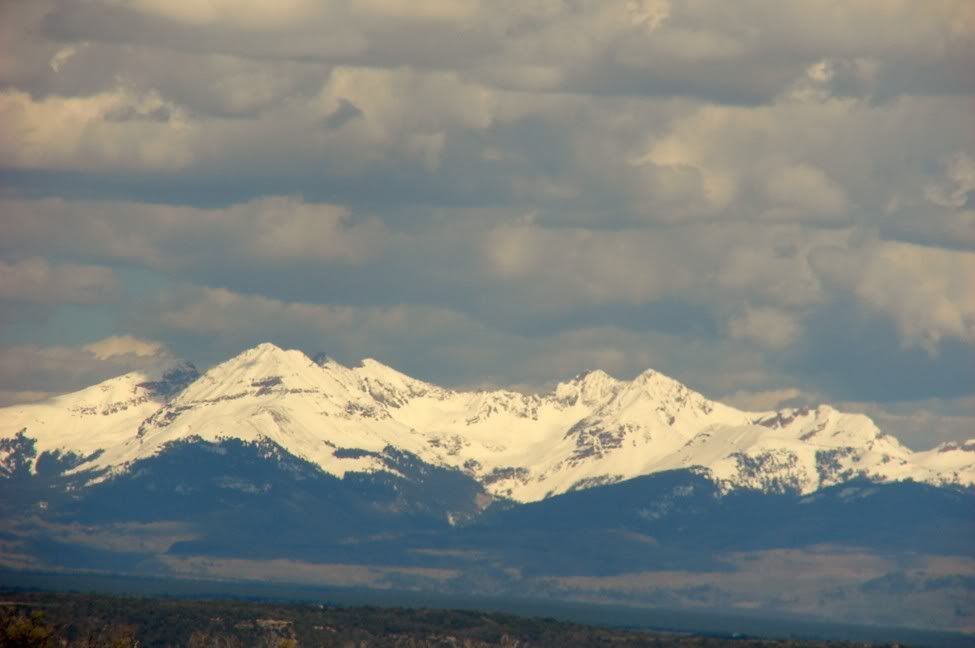 It's a good thing, since our house will have about 210 degree views of the Sangre de Cristo Mountains that are mostly 14er's and are gorgeous. But of course, I can't find a picture of them on my computer because we haven't been out there for a while and I haven't found the disk that has the pictures of them. So if you want to see a picture of them, go here or maybe here. The second link shows some of the sites of the little town that we will live near. All of the pictures of the mountains in the background are the mountains that we see from our land.

On the trip, as we went south out of Colorado, we were able to see this:
It is Shiprock. It rises up out of the desert in northern New Mexico and can be seen for miles and miles. The little town that is named after it, Shiprock, NM, is located on the Navajo reservation and is kind of sad town. It is run down and there isn't much there, but the rock formation is really neat to see.

The time in Laredo was pretty uneventful, if a tad hot. Our air was broken on the truck so we were driving with the windows open which allowed all of the bugs to enter the truck and precluded conversation, but in Laredo, we hooked up to Idleaire, which was a godsend. Not only does it control the climate in your truck, it also has television and movies.

We got a load out of Laredo going to Kentucky. We got withing 500 miles of home and then had to drive from Kentucky to West Virginia without a load. Not the best thing to happen, and what the whole rant post that I didn't post was about. Anyway, we made it and here's proof:

This is the groom, my husband's middle son.

This is a picture of the Bride and Groom, Jess and Drew:

This was a happy day, can you tell. This is a real good representation of their life together so far. They have a lot of fun and make for a good couple. Now for some absolute cuteness:
This is the flower girl, a cousin of the bride. She was playing shy as she was throwing her rose petals. They said that at the rehearsal she did everything that she was supposed to, but she did the shy thing at the wedding. She is as cute as she can be, and I guess because our ds was one of the only other children at the wedding, besides her, she was fascinated with him. She kept wanting him to dance with her and finally he did towards the end of the reception.

Here is a picture of da' boys...all three of my husband's older boys. The one on the left was the best man and the one on the right was a groomsman:

My dh can't believe that I would put pictures of the wedding on my blog. It kind of freaks him out that I would place that much of my life out there for people to see. Oh well, he'll get over it.

On the knitting front...I finished the French market bag. Only it isn't a French market bag after the felting. It ended up being a pot luck dish cozy. My mother will love it, but it shrank so much that it will hold a 2 quart Pyrex dish. I forgot to take pictures of it before and after felting, so I will have to wait until my sister gets back from vacation next week for her to take a picture of it for me after the felting. I even made it bigger than what the directions said to so that it would be deeper and bigger around. I guess the knitting gods were angry that I didn't swatch and test felt the swatch to see how much it would shrink. I won't do that again.

The socks for ds are making progress. I won't take another picture of them because the progress is slow and there doesn't seem to be a lot of progress. The foot is getting longer, but not very fast because I work on other things and don't work on them as I should. I like the fabric that is being made and the yarn is going to make for a very nice sock for a boy.

When we were home last week, I got the yarn that I had ordered online and haven't taken pictures of it yet. Some of it was put away in the container until the next time we go home. I bought a bunch of worsted weight yarns that will felt well to make a booga bag and another try at the French market bag. I bought some greens and purple and a chocolate brown for a striped booga bag and then I will use some of them for the French market bag.

I also bought some lavender variegated to make a top for my niece and some nice yellow cotton to knit a top for my sister. They both need some cool cotton tops for summer, so I volunteered to knit one for each of them. Now it is just a matter of finding a cute, modest pattern for both of them.

I got some Sweet Georgia that I had ordered sight unseen. You know that Sweet Georgia is becoming impossible to get. There was a shop that had some, but didn't have more than one skein of a lot of the colors that she did. I called them and ordered 5 skeins from them. Four of the skeins were pairs and then there was one single. They are all gorgeous and will make something nice for someone. I hope she comes back from her sabbatical and starts dyeing again, because she has really nice yarn.

I also ordered some stuff off of etsy...need to quit listening to Lime and Violet. They are enablers. One of the things that I got was Malabrigo. It is a heavy worsted weight that is so incredibly soft. I got a crimson and brown mixture that is just lovely. I don't have a project in mind for it yet, but I will find something to make out of it. When we are stopped on Monday, if the sun is shining, and before I put it in the tub, I will take some pictures of the yarn and post some so that you can be enabled too.

I also go some more of the painted sheep's stitch markers. I love those and they are so reasonably priced. They have changed the configuration of them, and I think I like the new configuration even better, but I will wait and buy some later.

We are going to try to get to Colorado and see my Mom and Dad and have DH work with a local builder that is going to be building the same kind of house that we are. He offered to let DH help with the house so that he could learn how the building system works for when we put our house up. Anyway, we may be there the weekend of Estes Fiber festival. If we are, DH said that I can go, even if I have to go by myself. My mom is going to be going to visit her mom and see one of my cousins graduate from college the weekend that is Estes, so she can't go with me. I may take ds, so that I have someone to go with me, or I just might take the day and go by myself...so there.

I guess that is all that I have to say, at least for now. Enjoy your weekend and remember what Memorial day is for...Remember all of the heroes that have served our country and fallen so that we may have the freedom that we so enjoy.