home for the weekend. We brought a load down to near Myrtle Beach, SC and now we are picking up a load that is going to Ohio, but it delivers either tomorrow, unless they say we can deliver it Monday and we'll go home and DH will do things like change the oil in the big truck and I will get to pick up my mail (read yarn). Oh and my my new Cat Borhdi book should be in the mail and oh maybe my booty club yarn, so see, we need to go home.
Did you know that it is 80 something degrees today down here? That's just too hot for October. I got some comments about seeing the color that we saw in Montana and how in the east there isn't that much color because of the lack of rain. Boy did I see that coming down to South Carolina. Is it too warm for the trees to be changing or is it that there just hasn't been any water in the form of rain. We stopped at a truck stop on the back roads in SC yesterday and they are under water restrictions and all permits for burning have been canceled. The grass was dry and crunchy. Down near the coast, things seemed to be greener, but then, there is always more moisture near the coast because of, you know, the ocean.
I meant to blog about this the last time I posted, but in the course of things, I forgot. We found out a couple of weeks ago that the son/stepson that got married in May and his wife are expecting, and we are going to be grandparents. Now, in the great scheme of things, that just sounds weird for me to be a grandma. I know that I have a son who is old enough, but hopefully wise enough not to, to present me with a grandchild. But with DH's kids being older than mine and you know, married and such, it's okay, but I just don't feel old enough. But DH, he's OLD. He should be a grandpa, but me, I'm just a youngin, I'm not old enough. But it's all good. It gives me an excuse to knit a BSJ from EZ and to do up some baby booties and maybe a blanket out of mason dixon knitting and .... hmmmmmm!
A couple of weeks before we found out about the baby, DH's oldest son let us know that he was getting engaged. We met his then girlfriend at the middle son's wedding and liked her very much. They seem to have a lot in common and she's from an area of the world that he has a lot of interest in, so they should make a good match. They aren't planning on getting married until probably August of next year and that takes a lot of planning. They are doing it all themselves and it sounds like, from the preliminary stuff that SS1 told me, they are looking to have an outdoor wedding, maybe in a conservatory or something. There DH's kids go again....trying to make the evil wicked step mother feel old.
Now if we could just get DH's youngest son married off and in a few years, mine we'll be doing good. Oh wait, I almost forgot. We still have one living at home that's only 11, so I guess it will be a while for us to get them all out of the house and gone.
Have I mentioned yet that it's too hot for October? Just checking to make sure that ya'll are paying attention.
I don't have any pictures to put up this time. I'm still working on the monkey socks that may or may not fit my mom. If they don't, I'll give the monkey's to someone else and knit mom something toe up that I know will fit. Might not be as wild as the monkeys, but they will be hand knit socks.
I messed up the other day. I was emailing my SP and sent the email from my regular email address and so now she know's who I am. That's okay, sometimes I think that might be better since now I don't have to do all the cloak and dagger stuff and can just come right out and ask.
I have blogged about having to have the truck repaired and being off of work for a week. Well, this last time, in California, when we had almost $9000.00 worth of repairs, we had to borrow some of the money from the company. Not because we didn't have it, but because the Kenworth dealer would not put all of the repairs on a credit card. We paid the bulk of them and then borrowed the rest from the company. We made arrangements to pay it back in increments and then today they took OUR WHOLE PAYCHECK!!!! and then said that we still owed almost as much as we had borrowed. We called the man that had made the arrangements, and it's back to being taken out in increments, but that doesn't make up for the fact that we have no paycheck this week. They did call us and give us an express code to have the money in a comchek, but now we have to find someone who will cash a check in that amount or if we can just deposit the check into our bank. It's all a mess. Anywho, at least now we are back to getting paychecks and not having them take all of it at one time which makes me less stressed.
I tell you, I am such a sucker. I love the yarn that Roxanne at Zen Yarn Garden puts out.
I like them so much that I have joined two of her sock clubs, Well, she decided that she wanted to put out another sock club, only this time it's call the Sumptuous Sock Yarn club. She wants to know if you are ready to knit "with luxurious and exotic yarns? Want to wrap your feet in pure luxury? This is the sock club for you!" She is starting the club out with Mongolian Cashmere and silk. Now if that isn't luxurious, I don't know what is. And the price for a three month club is pretty darn good, too. So if you are so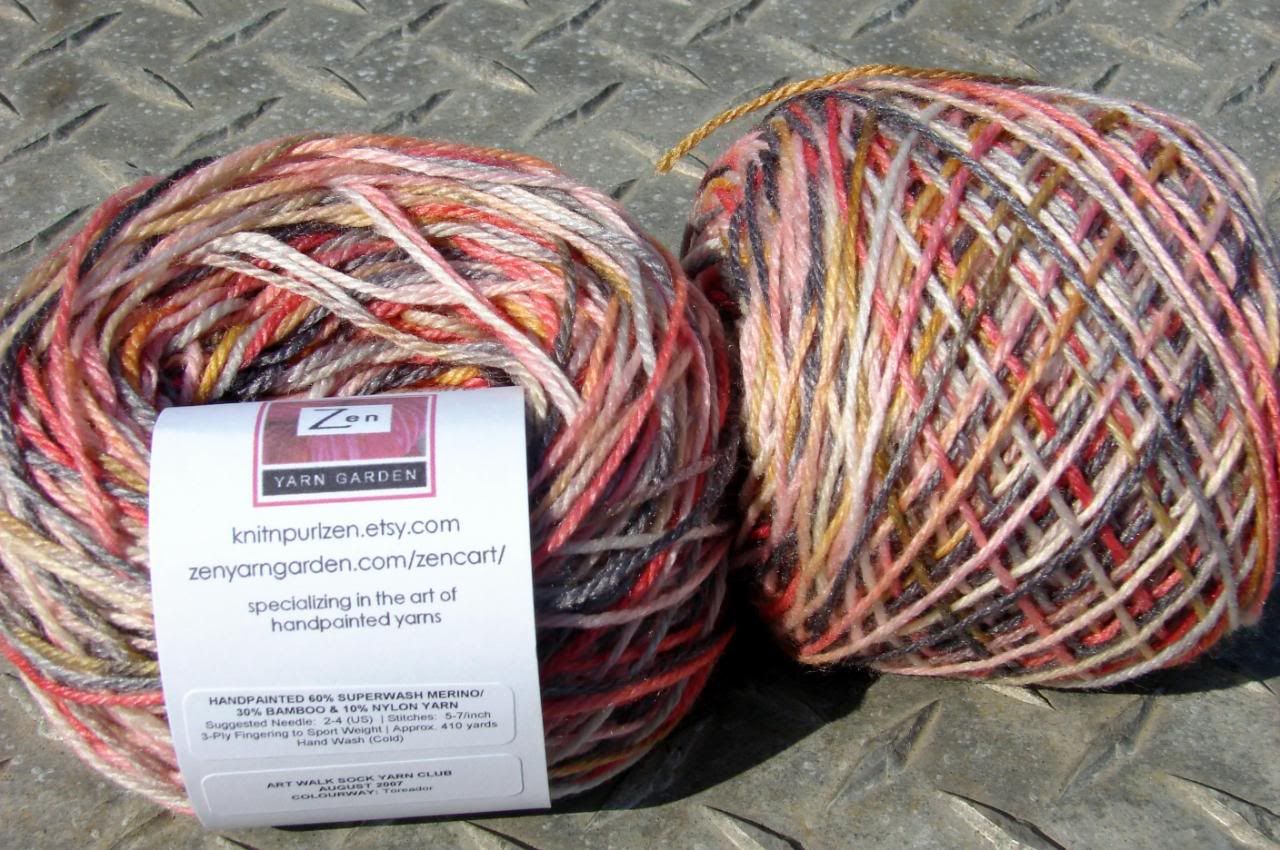 inclined, rush right over and join me in pampering yourself or someone else (great for gift giving) with the sock club. Just to show you what kind of product she puts out, this yarn is something I bought from her before I knew about her sock clubs and it's what made me know that her sock clubs would be, in the words of Lawrence Welk, "wunnerful, wunnerful!" This picture is from her Art Walk sock yarn club, and I love this yarn. I haven't done anything with it yet, but I may use it for my mom, if the monkey socks I am making right now don't fit. I think she would like the yarn and it's smooshy and springy and , well you get the picture.
I sent my sister her socks in the mail, and she got them some time last week.
I called her to make sure she had gotten them, and she hadn't even tried them on. What's up with that? Don't you think that if someone sent you hand knitted socks that as soon as you got them, you would at least try them on? I realize that it's been maybe a wee bit hot for wool socks, although they are a lace pattern, but you would think that maybe she could have tried them on. I did talk to her a couple of days later, and she had tried them on and liked them, but said that it has still been too hot to actually wear them. My niece, the one that ended up with the "Not so little boy" socks that I knit for DS, wears hers constantly. My sister said she loves them and looks for them to wear all the time. At least I have one hand knitted sock devotee. :-)
I don't guess I have anything else right now. We might do something fun this weekend, but then who knows. If we do, I'll try to remember the camera for blog fodder.