we were able to have a break. We delivered our load to Broken Arrow, OK on Thursday, and then on Friday we picked up a load ending up in Delaware, but it had 5 stops to it. We had a delivery to make to Fayetteville, AR that was supposed to deliver Friday, but after waiting 4 and a half hours to be loaded, we weren't able to be there. I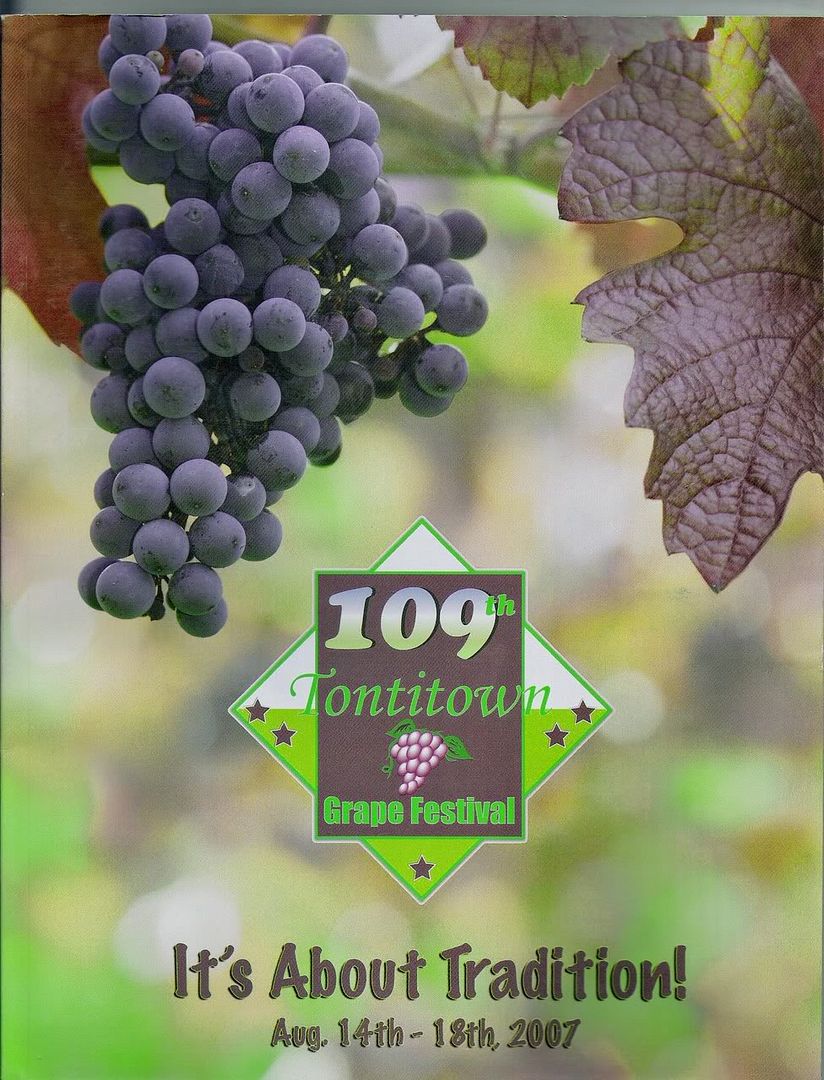 called and set up a delivery appointment for Saturday morning. Friday evening, we got to Tontitown, AR and found out that they were having a Grape Festival. That entailed a Spaghetti dinner, crafts people set up in tents, a book swap/sale and a carnival. We went to a restaurant called Mama Z's and had a spaghetti dinner and found out that they were the restaurant supplying the pasta and maybe the sauce that was being used for the dinner at the festival. One of the pluses of going to the restaurant over the festival for dinner was air conditioning. It was hot and humid and sticky. After dinner, we strolled up to the church grounds that was holding the festival and wandered through the craft tents. We were able to purchase some things for our as yet unbuilt house and something for a Christmas gift. We then took the DS to the carnival and let him ride a few rides. When tickets are $1.00 a piece, and the rides cost 3-5 tickets each, it gets a little pricey. We spent $11 on tickets and that allowed him to ride 2 four ticket rides and one 3 ticket ride. He had a great time and it was fun watching him laugh and smile while he was doing it. We also picked up some grapes, it being a grape festival and all, that taste almost exactly like Welch's Grape Juice. I even asked what kind they were, not concord cuz those got frozen, but now I don't remember.
Saturday morning we got up and made our delivery and then headed out across country towards St. Louis. DH had said that we could get a hotel room for Saturday evening, with a pool, because we had all kinds of time and not very many miles. We stopped at a rest area in Missouri and picked up the coupon books for hotels and found out that not very many hotels were honoring their coupons, didn't have truck parking, didn't take pets, or charge an exorbitant fee for having a pet in your room. I did a lot of searching and finally found the hotel that we needed to stay at. They have a very generous pet policy (they don't charge for them), a pool AND a hot tub, a hot breakfast and they also have a cocktail hour and a half in the lobby that includes snacks, sodas and juice, and if you want them beer, wine and mixed drinks (3 per person, please). And what is that wonderful place to stay....Drury Inn & Suites in O'Fallon, IL
. It is a new hotel and if you clicked on the link above, you can see that it's seven floors of very nice rooms, great beds, and friendly staff. We were able to walk to Buffalo Wild Wings and get dinner and then come back to the hotel, get our wine to go with dinner, eat, swim a little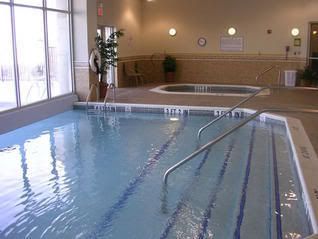 (the pool was cold, for some reason) and then do a mile
on the treadmill. They do have a neat pool, it's half indoor and half outdoor...you can swim under that glass wall and go to the outdoor pool. They had a large enough parking lot that we could park the truck, although we did have to wait until noon of Sunday before we were able to get out. We had to wait for the parking lot to clear out some to be able to get aro
und .
The only bad thing about staying in a hotel is that we have a really bad habit of staying up really, really late watching television. We have a tv on the truck, but we don't watch a lot of commercial television. We mostly watch movies that we already own. So when we get a really nice room like this one, we tend to watch a lot of things that we don't normally get to see.

We did have a good time and got some rest and relaxation away from the truck. That's always a good thing. The only thing that I really wanted to do that didn't get done was to wind up the yarn I got at home and to take pictures of it. It is still residing in the bin under the bed and hasn't seen the light of day since it was placed in there. I hope to do something with it in the next few days, although I think I have been saying that since we were home, LOL! I didn't even take the laptop into the hotel when we were there, even though they did have wireless service, but it was one less thing to carry in.

Sunday, after we left the hotel, we went to Brownstown, IN to make the third stop in this load. We got there just as third shift was starting, and when DH asked if they would take the two pieces off of our truck, the guy that he talked to said that he didn't know how. Fifteen to twenty minutes later, he came over and knocked on our door and said that he would go ahead and take them because he couldn't see us sitting there overnight for two pieces. YAY! We were able to get up to Bellefontaine, OH for first thing Monday morning, which meant that we got to do the miles to Nazareth, PA on Monday instead of having to do them over night on Monday night which meant that we were able to get the delivery for Nazareth, PA and Georgetown, DE off and be done today by 2 p.m. PDT.

Now, we are sitting in Bridgeville, DE waiting for a load. We are trying to get them to give us something that will take us to Dallas, TX for this weekend, or at least for Friday and Saturday so that we can go to the Great American Truck Show. We need to go to the show to be able to talk to some people about the things we need to do for going out on our own. Hopefully they will be able to find something that heads that way and we will be able to go. Not only that, I need some more Infinite Aloe, and we first bought it at the Dallas show and we should be able to pick up some more there.

The weather here on the East Coast is cold and rainy and really a change from what we have been used to. We actually had to dig coats out of the storage bag this morning because it was so cold. When we stopped at a rest area, DH got our and turned the heat on in the truck because I was freezing and I had even put a sweater on. It did warm up a little bit in southern Delaware, but it's still chilly, just not pouring down rain anymore.

I don't have any yarn pictures or any knitting pictures today (see explanation above) but I have been working on ds's socks, and I have the heel turned on both of them. He's getting excited and wants me to finish them so he can wear them. I want to get them finished because I want to re-start the six socks Gansey sock for this month and I want to knit my mom some socks in the blue/purple Bearfoot yarn that I have for her. Because of the mohair content in the yarn, I have decided that I am going to do one of the ribbed socks from Barbara Bush's Knitting Vintage Socks. There are three or four different rib patterns and I think with the halo on this yarn, it needs to be a simple sock. I know that it didn't work for the Gansey sock, I couldn't see the cables. When I have something to show, I will.

DH has Pure Country running, so it's time to grab DS's socks and go back in the back and watch the movie. See ya!