I got the boxes from my Canadian Tea Swap Partner and the one from my secret pal....they both outdid themselves. Now I do have just a little caveat about these pictures....I didn't take them because I haven't actually seen the stuff that I got. Because of our life, all of my mail goes to my sister's house and being the good sister that she is, she took these for me, after my niece had called me and told me about all of the really neat packages SHE had gotten. Without further ado, I will post the pictures from my Tea swap partner....


It looks like I got some wonderful chocolate, some good tea and some great yarn....I will let you know when I actually get to touch and taste and see all of the items exactly what what in it.

I also got a package from my secret pal. She also sent me some really incredible stuff and her blog can be found here. Now here are the pictures, from Kathy:


I can't wait to try the stuff from EO. I LOVE french lavender and love the fresh clean smells of citrus, so I can't wait.


I have been wanting to try one of these as well, and just never had, so this should be fun. It will look loverly in my little glass tea pot, like the one that I sent to Leigh Ann, my tea swap partner. Kathy also sent me a knitter's journal with a little tiki man on it....here's what the whole package looked like: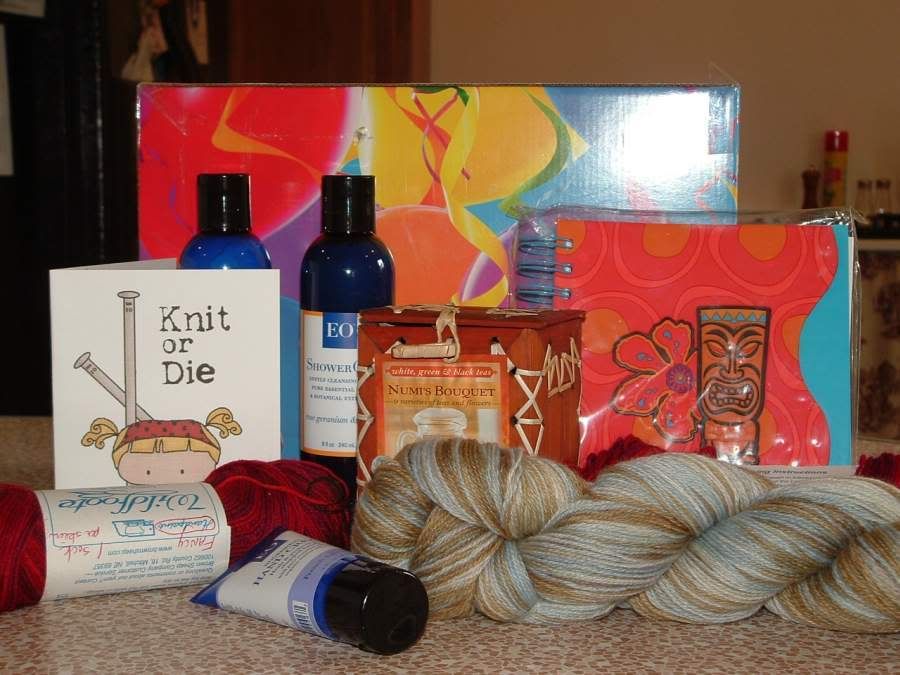 Thank you, thank you to both of you. Going home will be a wonderful Christmas like experience with all of this great stuff waiting for me.

We are still in Colorado. DH isn't working this week, and neither is the DS. Today, my Mom is teaching a Bible study, so we all got booted out of the house. The boys decided to go riding, and so they took my parents horses and borrowed one from my uncle and away they went. We had been in town yesterday because I have an aunt who collects some of the same things that I do and she and her husband have no children. They have been after us to come and get some stuff from them, so yesterday we decided to go to the "Springs" and see them. We also had some errands to run to get things ready for building our house. We went to a plumbing supply store that carries these. We found out that they are not something we are going to afford....$3300.00 for a kitchen sink was a bit much!!!! So that also let out these. We didn't even get the price of the bathroom vessels because we just figured they would be way more than we wanted to spend. Anyway, the man helping us was very informative and very helpful, so in the fall, when we pour our slab and are getting ready to do the plumbing stuff that has to go into the slab, we will use that company for those purchases.

Last weekend we went on a ride on the four wheelers and this is some of what we saw...


This was taken from the top of Locke Mountain. If I knew where exactly I was looking, I could point out where our house will be, but I am not quite sure.

My mom and dad have a Schnauzer that loves to ride the four wheeler. As you can see he has his own little box that rides on the front of my Dad's scoot. He sits there and if anyone gets in front of him, he has to howl and bark at them. DS was playing with the dog and put the goggles on him....needless to say, they didn't stay on long.

Here are some pictures of some wild iris...they are much smaller than the ones you grow in your garden, but no less beautiful....
DH got down on his belly on the ground to get these flowers from this perspective. I thought he did a pretty good job.

Here we are relaxing at the end of the trail before the trip back down the mountain....
and here is the DH
Riding on the back of the four wheeler....he almost always lets me drive....he gets awfully dirty. The back of his shirt was covered with dust.

On Sunday afternoon we went down and staked out our house for the last time. We marked it with the fluorescent orange paint and metal stakes so that we can talk to an excavator about have the site prepared for the slab of the house. Should be progress on the house in the next couple of months, and so you will get to see that as we work on it.

Have a great
. Enjoy the
and I will see you back here the end of the week when we are back on the road. Enough of this vacation stuff...LOL.