We are still in Montana today, did a whopping 381 miles today. (that was all posted yesterday, before I finished the post. Now we are in Washington) That's because I got to go here. I am a member of the Six Sox Knitalong, and the sock that is going to start in August is recommended to be knit out of solid color yarn. I have quite a bit of sock yarn on the truck, as you can tell by what is in my Ravelry Stash, but nothing in a solid or semi solid colorway. This, at least in my mind, necessitated a trip to a yarn store. The yarn shop in Bozeman, which is mostly right on our way to Seattle, only means that we have to drive about 15-20 miles out of our way to drop the trailer and then go in to Bozeman and then back out to Belgrade, MT where the truck stop is that we drop our trailer out. Usually we also get to eat at a good restaurant rather than a truck stop. Today was no different. We went to the yarn shop where I procured much yarney goodness. First there was the sock yarn...Mountain Colors Bearfoot in Purple Mountains: OH MY!!!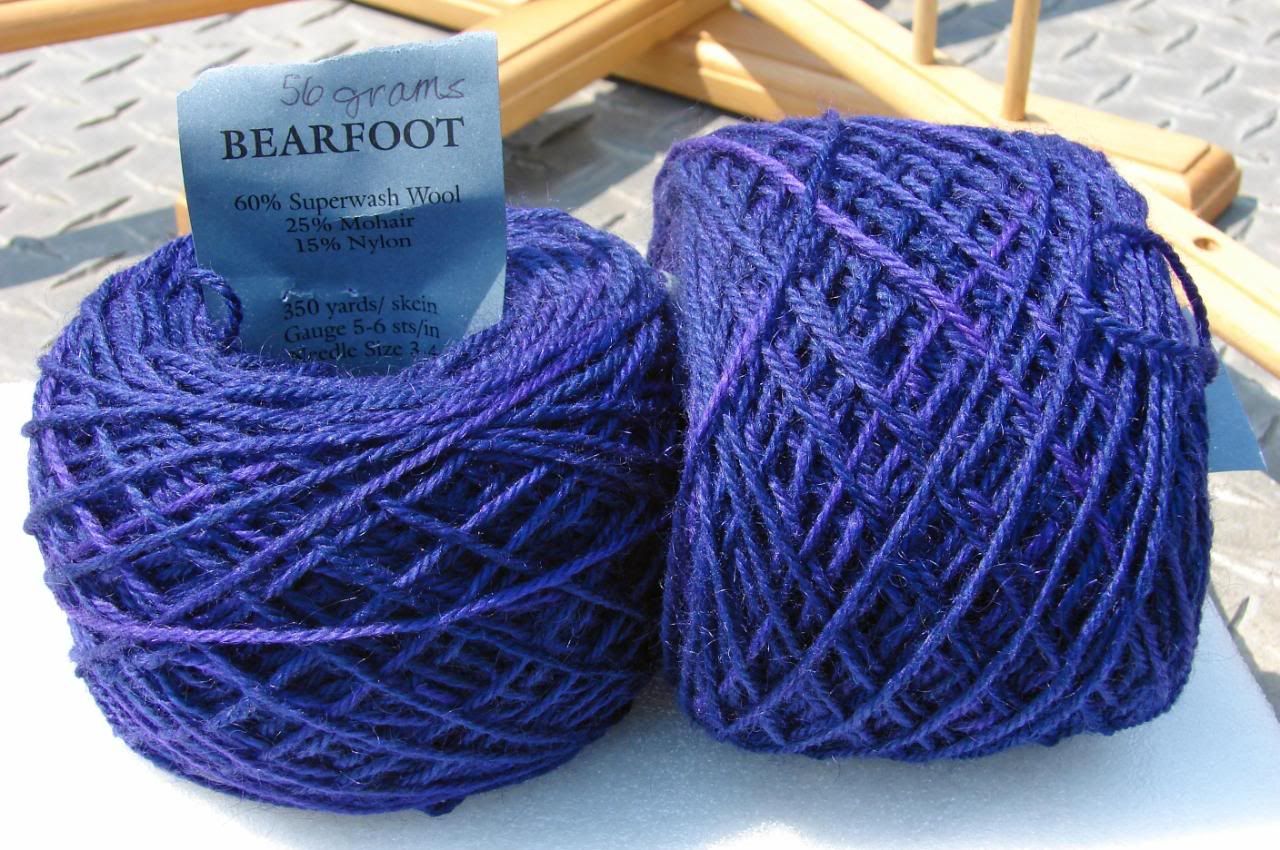 This is just the most incredible mixture of purple and royal blue. It changes colors almost imperceptibly, but the mixture is amazing. Not only that, it is incredibly soft and squooshy. I'm liking it a lot. I then picked up a skein of Mountain Colors Bearfoot in Brown Bark. Again the colors are incredible and change from one to the next very nicely.




My darling husband, ever the enabler, got stopped at the book shelf in the shop and came up with this gem for me.
I picked up a couple of spindles at Estes Wool Festival and have been having a real time with spinning on them. Ever the thoughtful man, he found this and encouraged me to buy it. Not only will it help me to learn how to spindle, but it has all kinds of other information about spindling and the history etc. It's a book put out by the editor of Spin Off Magazine and is called A Handspindle Treasury.


I have been working on a tank for my sister out of this pattern. The biggest problem was that I bought the yarn before we had decided on the pattern and tried to make the yarn we bought work. IT DID NOT! It was yukky :-p So, when we were in the yarn shop yesterday, I found some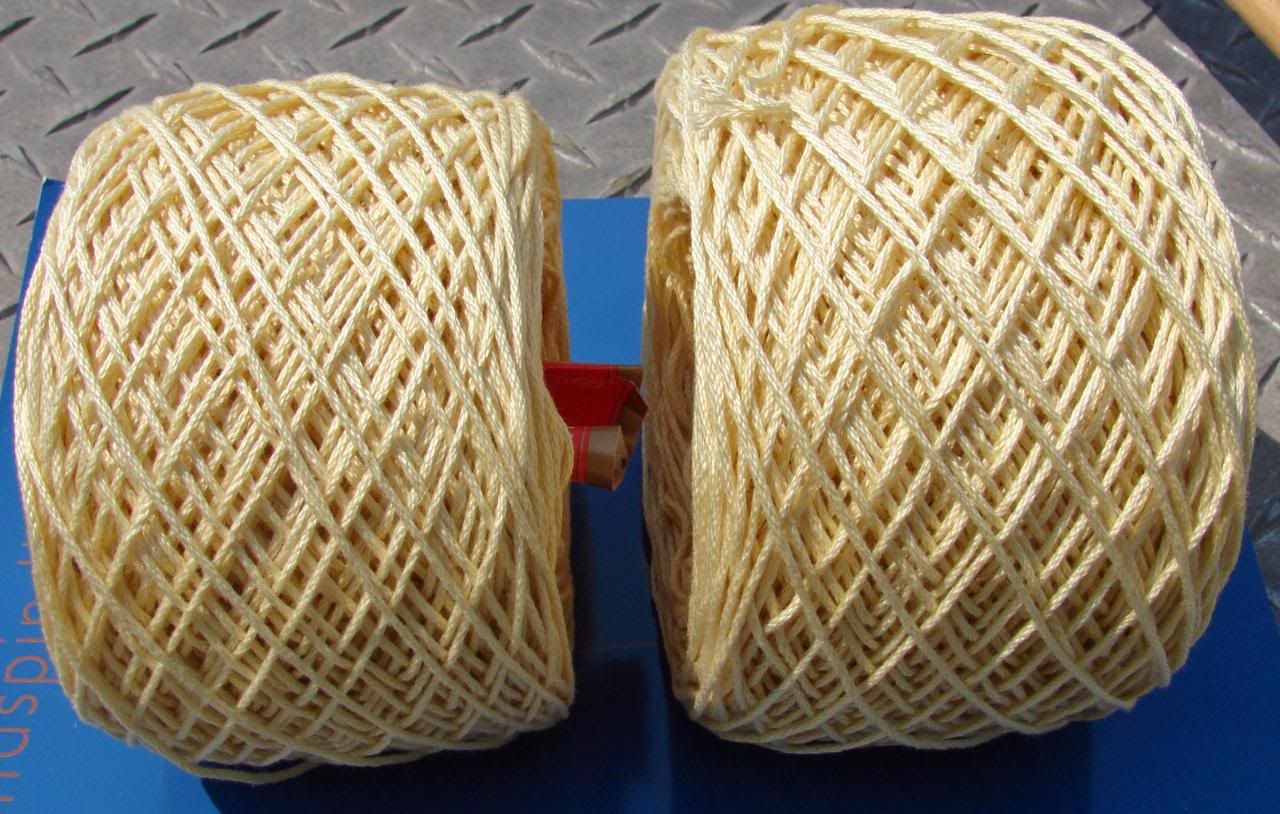 Butterfly Super10 Mercerized cotton that was a much more appropriate yarn for the top. I like knitting it better. The stitch definition is way better and I think that she will like the color better. It's less yellow than the first batch of yarn. We had the boy with us in the yarn shop and he is ever on the lookout for yarn that he likes for socks. Now, I have been working on a pair of socks for him forever. They keep getting shoved aside for something more exciting, something with a deadline(self imposed or otherwise) and the poor thing would really like me to knit him a pair of socks. Anyway, he picked out this:
It's Trekking...at least the boy has good taste. I then picked up this skein for a pair of socks for the Husband: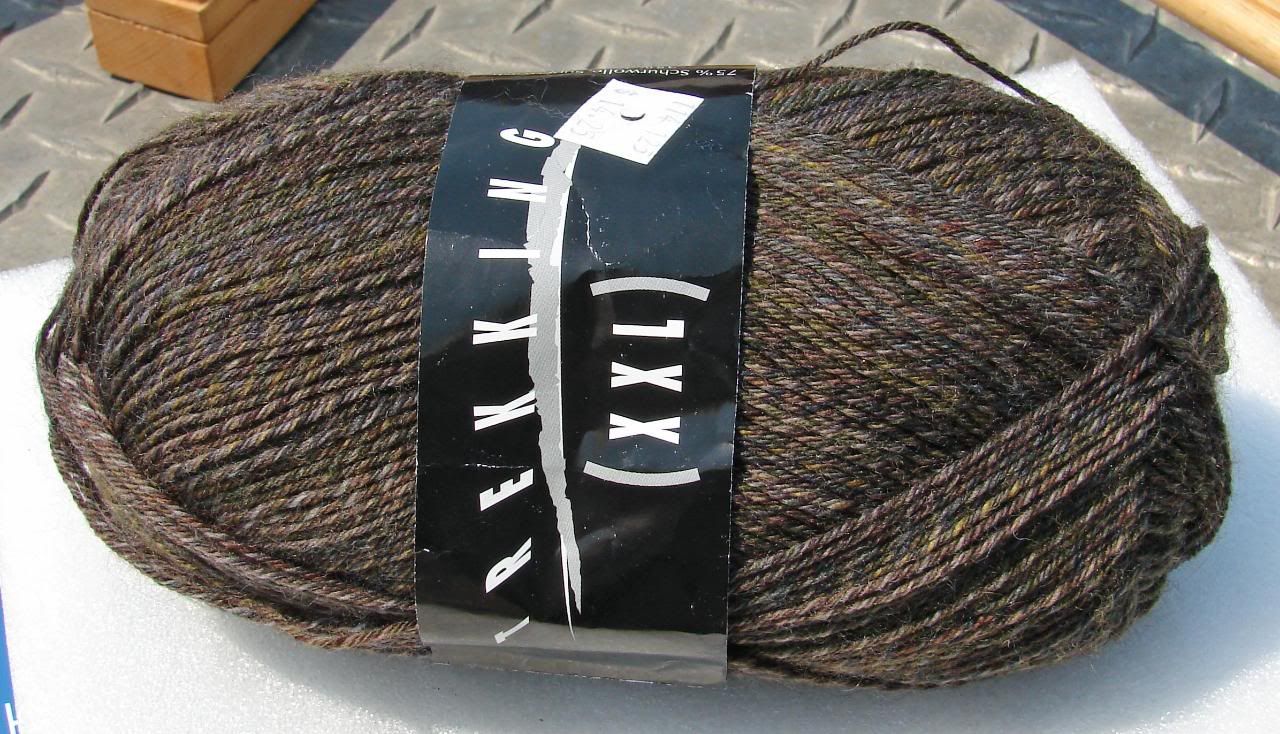 The final bit a yarn that I picked up was something else that DH decided was "me". He said, and I quote: "I can see you wearing socks made out of this". So I had to buy it, don't you agree? It's all purple and blue with some brown and green. It's 85% merino wool and 15% silk. It's gawgeous! Oh, you want to see a picture of it? Really? It's so nice and soft and I really like it a lot. I want to pet it.....Oh, the picture? Here it is: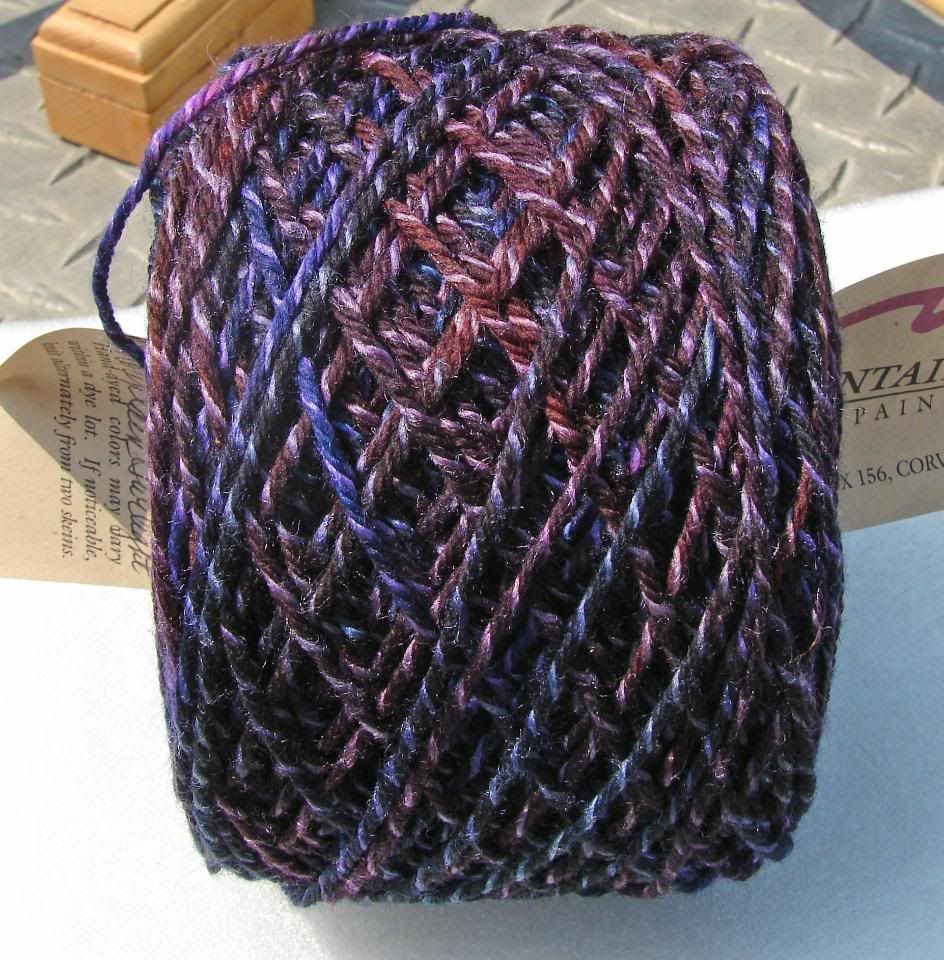 I'm thinking something in an anklet or something because there is not a lot of yardage on the skein. Either that or a soft and squooshy scarf.

Now, I've posted pictures of all of this wonderful yarn, and as observant as I know you are, you've noticed that all of the yarn is caked and ready to go. It didn't come like that, oh no! Most of it came in hanks and had to be wound into center pull balls. The next couple of pictures will show exactly how that was accomplished.


We set up a yarn winding station on the trailer. I pulled out my ball winder and the wonderful swift that my dh and my dad made me and wound up all of that yarn. Not only that, I was able to take the skeins of Barefoot and divide them in half with my handy dandy scale that we bought at a kitchen store.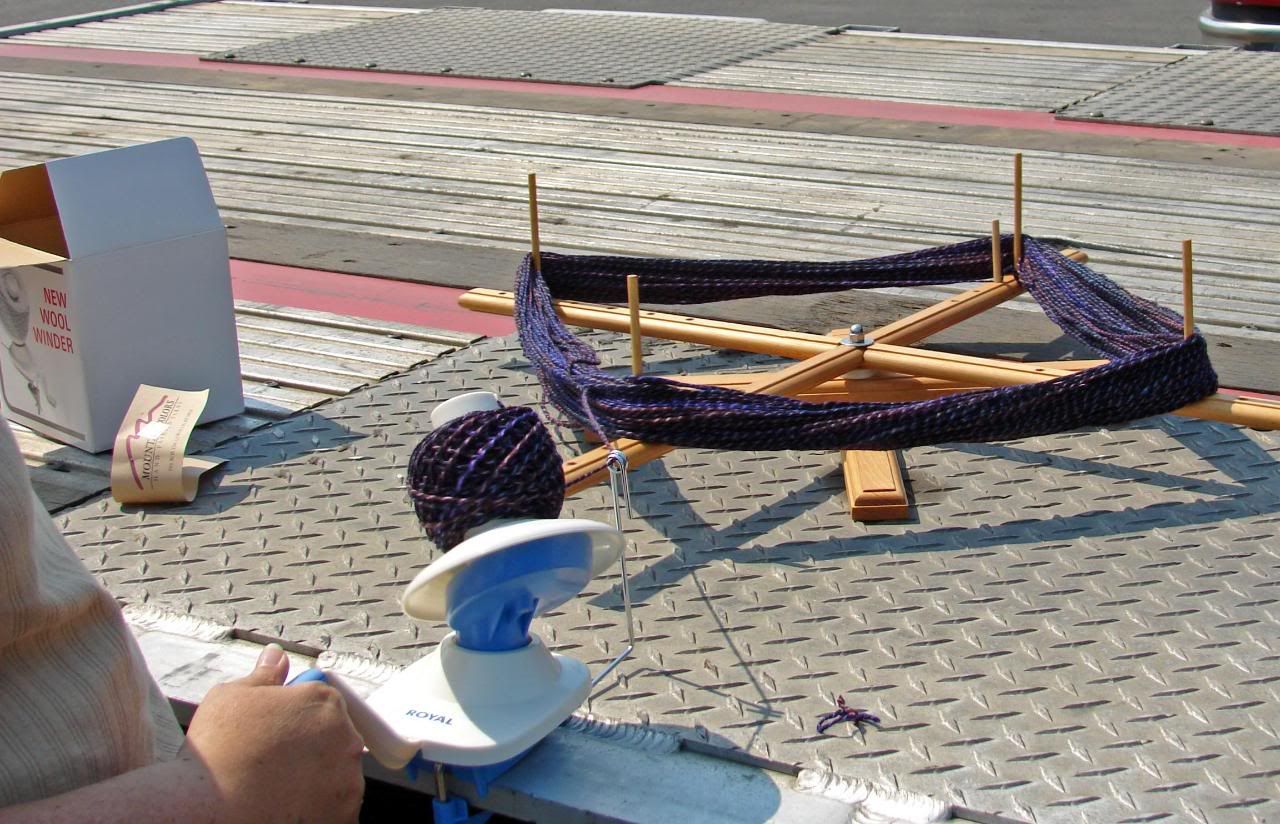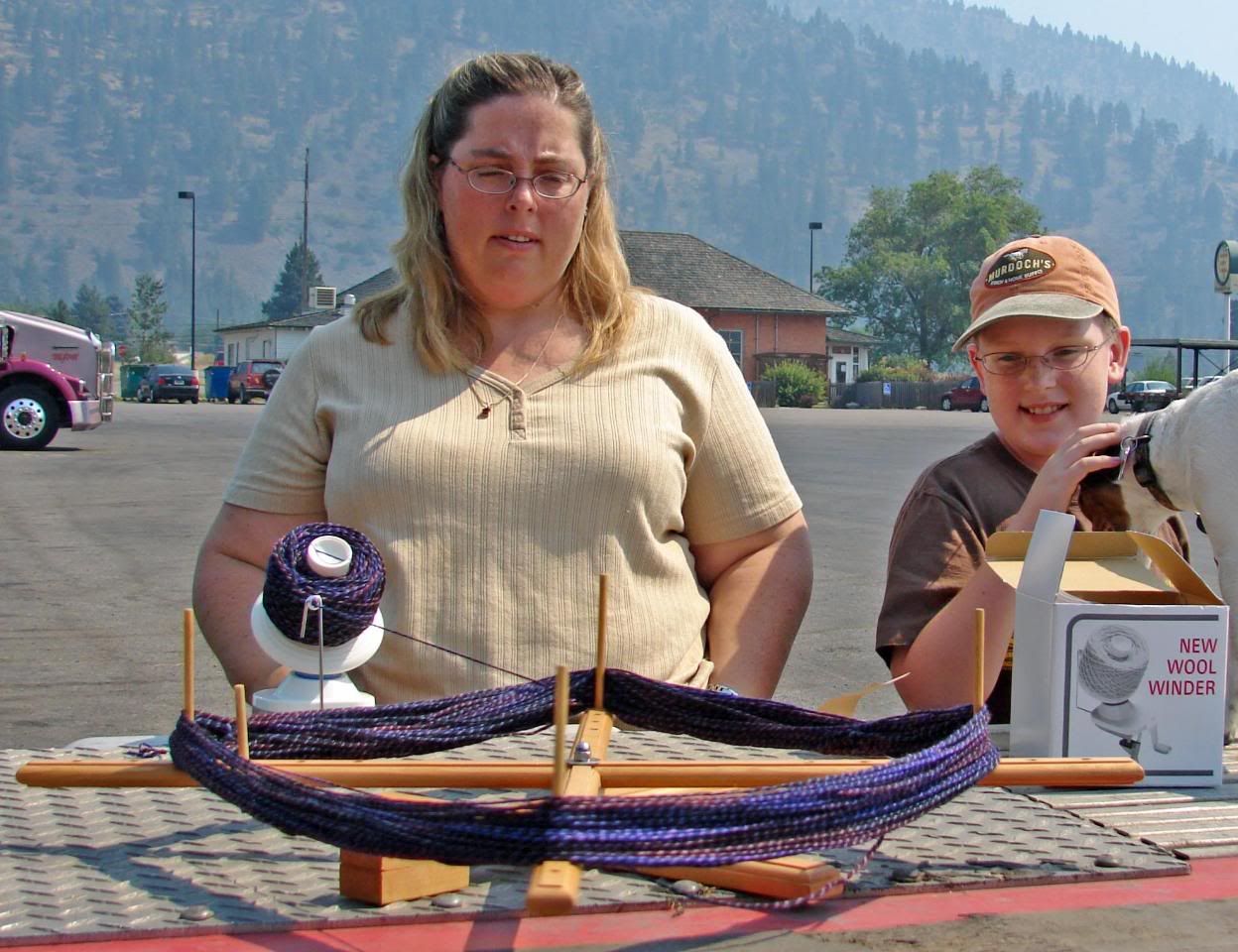 These are the tools of the wool winding trade: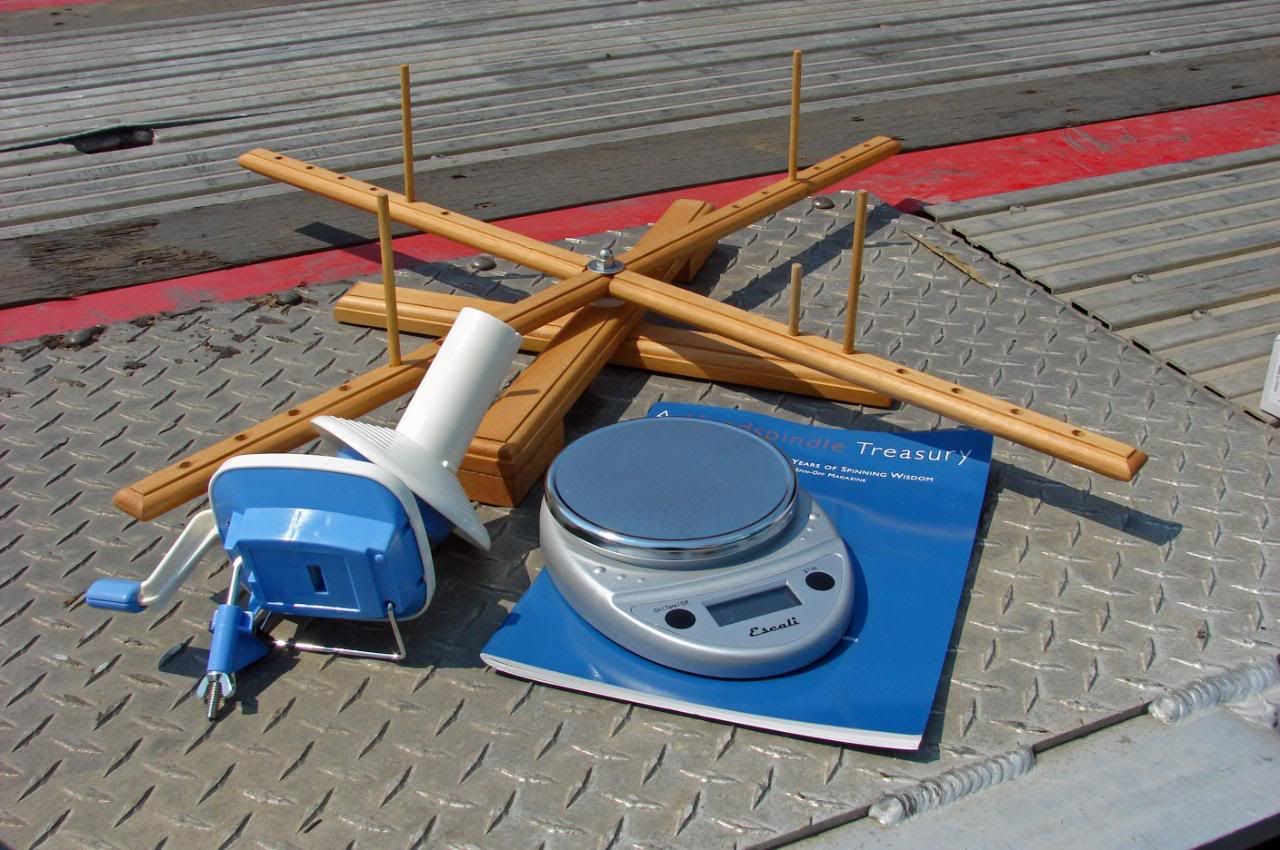 And finally, one last picture to show that I actually do finish projects. I present you a picture of my FINISHED Victorian Lace Socks in Koigu PPM, Light blue colorway, semi solid in a ladies size 8: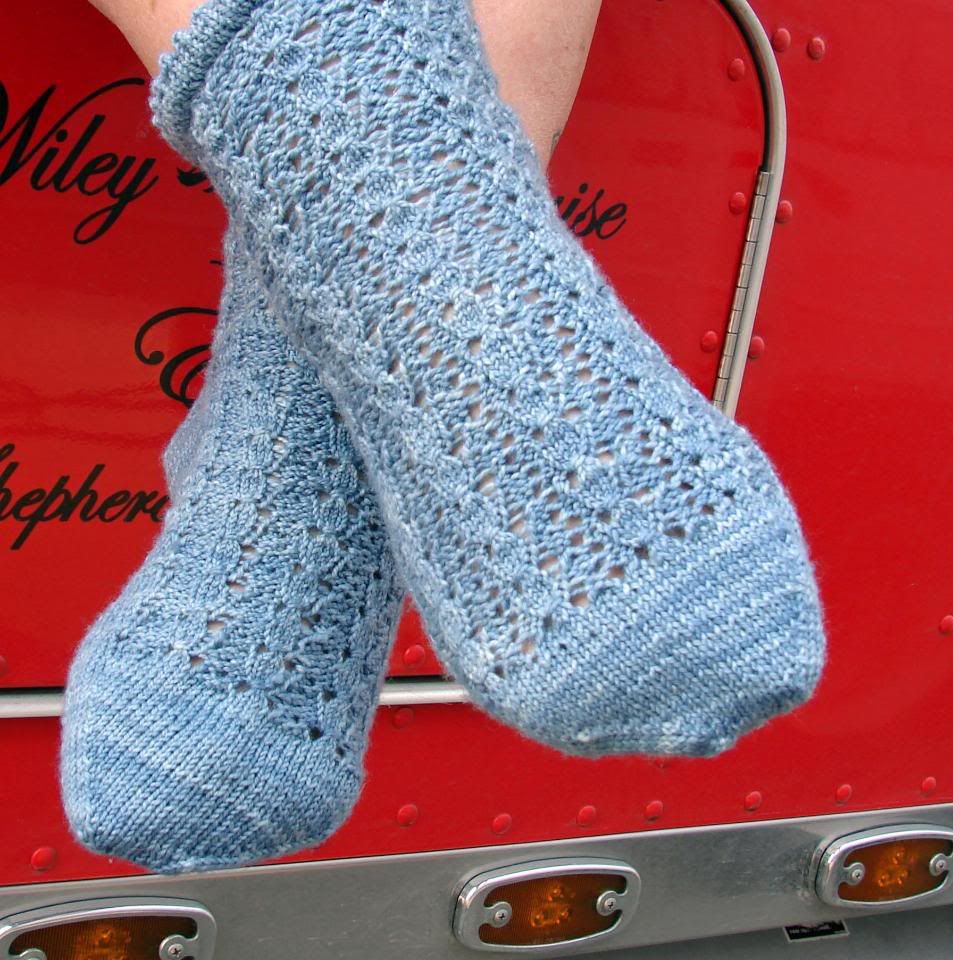 I really like these socks. I've been wearing them all day and they are comfy and pretty and look great with Birks...so there. I squeaked by under the deadline and they are finished. Yay for me.

I have a 'nother whole post to do about the excitement we saw yesterday and we were coming across Montana, but that will have to wait until tomorrow or the next day. It will be another picture heavy post (aren't all of mine) with some cool and not so cool things.

Ciao